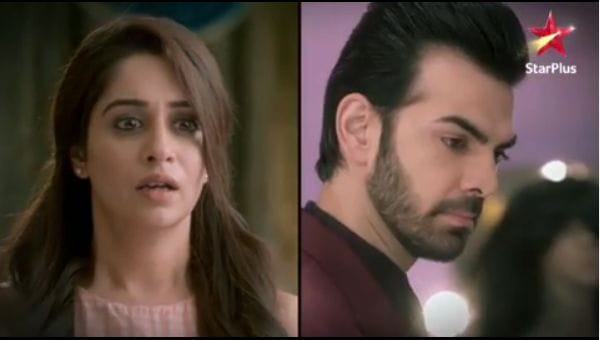 Episode starts with Nishi asking to Sonakshi what Netra is saying. Sonakshi stands quiet. Rohit follows Shailesh and ask Ravi to keep distance else he will doubt. He goes behind Sailesh and hears Mahtre's address. Rohit locks Sailesh and ask Ravi to take him to Borivali.
Nishi ask Sonakshi to speak up. Suman too ask Sonakshi to tell them what Netra is saying. Netra tells to everyone that Mahtre handles the regional newpapers thus Sonakshi deal with Mahtre for Pooja's sake so that her videos and photos don't leak. Sippy's stands shocked.
Netra further says Mahtre called Sonakshi to Pune for his brother's marriage. Naren recalls the flashback. Pooja too recalls how she accused Sonakshi. Suman screams and says she knew Sippy's are behind Sonakshi's downfall. She asks Nishi now what she has to say on this matter. Pooja cries. Venna ask Sonakshi did she really done everything for Pooja. Sonakshi says she don't want to say anything now and leaves. Venna says her family was accusing Sonakshi and otherside Sonakshi risked her reputation for Pooja. Sippy's stands shocked. Nishi faints.
Rohit searches for Mahtre at Borivali. Mahtre calls and ask the person to come soon. Rohit spots Mahtre and tires to go close to him but gets stuck between the people who were dancing. A man handovers a bag to Mahtre and tells him that bag has everything what he has asked. Rohit looks for Mahtre and bumps into Raima's mother. He offers hand to Raima's mother but Raima's mother sees Rohit in the mirror and don't respond to him. Rohit ask other people to help the woman. Raima's mother stands up and says Rohtii shouldn't come to know that Raima is in Mumbai.
Rohit catches Mahtre and beats him up for escaping after spoiling a life of an innocent girl. Mahtre ask who is he and beats him back. Mahtre's man beats Rohit and runs away.
Sonakshi remembers Rohit and calls him. Rohit tells to Sonakshi that he has seen Mahtre and his brother and is following him. Mahtre's goons kidnaps Rohit. Sonakshi worries for him.
Sonakshi thinks to go for searching Rohit. Suman stops Sona but Sonakshi ask her mother to let her come back and she will answer her all the questions. YK and Rohan go behind Sonakshi. Sona calls Ravi and ask where he is.
Sonakshi hides her face and reach Ravi. She asks about Rohit. Ravi tells her that he went to Kabutar gali and asks him to wait. Sonakshi and YK rushes to search Rohit. A taxi driver was praising Rohit's watch and Sonakshi sees him. She tells to YK that watch belongs to Rohit. They enquire the driver about the watch. Meanwhile, people surround Sonakshi for selfie. Rohan catches the driver and ask him to speak the truth. Driver tells that few goons hired his taxi for kidnapping. Rohan ask him to take them to that place.
Mahtre questions Rohit why he is after him for Sonakshi. He asks Nikhil to check Rohit. Nikhil tells to Mahtre that he is Doctor Rohit Sippy. Hearing Sippy; Mahtre recalls Sonakshi's meeting with him and reveals his deal with her for Pooja Sippy. Vimmi informs the family that Rohit is kidnapped. Sippy's gets shocked.
 Rohit says Sonakshi went to Pune for saving Pooja's reputation. Mahtre further says Sonakshi played game with him and now it is good she is trapped. Rohit recalls Sonakshi's word. Nikhil comment on Sonakshi and Rohit gets angry on him. Mahtre's goons beat Rohit.
Sana asks Raima's mother why she is so scared. Raima's mother tells Sana and Hitesh that she met Rohit today and asks Hitesh to shift Raima soon from here. Sana sees Raima and calls her mother to look at her. Raima's mother says Raima opened her eye after four years. (Episode Ends)
Precap: Sonakshi reaches to Rohit and ask him if he is fine. Mahtre fires the bullet. YK and Rohan stands shocked.