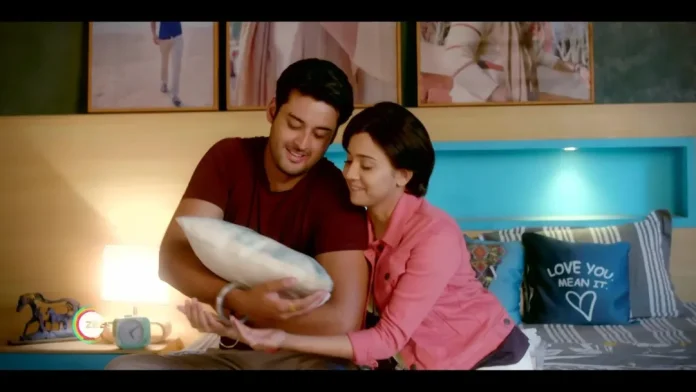 Meet Upcoming Story, Spoilers, Latest Gossip , Future Story, Latest News and Upcoming Twist on Justshowbiz.net
The episode starts with Yashoda recalling what happened. Sarkar comes with a stick and asks Yashoda why did she go to Babita's botique. Yashoda says she went to buy Shagun's wedding dress. Sarkar comments on it. Sarkar scolds Yashoda and says with what she did. Meet might suspect something is going on.
Meet thinks to herself something is going on that she isn't able to see. Raj comes and gives the dress to Meet saying Babita designed these dresses for her Haldi ceremony. Raj suggests Meet to try them. Raj asks Meet what is she thinking about? Meet shares her suspicion with Raj as nothing goes in Sarkarpur without Sarkar's order. Manmeet stops Sarkar when he tries to hit Yashoda. One of his men goes to teach Manmeet a lesson but Sarkar slaps his man and introduces Manmeet as his son to his family members. All the Sarkar's family gets shocked seeing this. Meet reminds Raj of what Sarkar did and shares her suspicion with Raj that Sarkar wouldn't do anything without meaning. Meet says she doesn't know why Sarkar wants to marry her to Manmeet and what is his profit in it. Sarkar introduces Manmeet as his third child to his family. Manmeet takes Yashoda's blessings. Sarkar invites Manmeet into the his home. Sarkar says to them that he stayed away from his mother on the order of Guru Maharaj. Yashoda tells the story behind Manmeet staying away from them for 24 years. She says Manmeet had a disease that couldn't be cured then a Baba told her that she has to send Manmeet away from her for 24 years.
After hearing what Meet said Raj also feels suspicious something is going on. Meet says Sarkar wants to marry Manmeet to her but he doesn't know why? Meet says she has to find out. Manmeet says there is meaning for him to stay away from them for these many years. Manmeet says to the Sarkar's family that he is going to marry Meet and make her his one day wife. After that he is going to throw her at Yashoda's feet and fulfill her revenge. Molki asks Manmeet how can he cut his own hand for revenge. Manmeet shows that both his hands are safe and sound. Sarkar says he is not that stupid to cut off his son's hand for revenge. Sarkar recalls the first time he saw Meet's husband photo which is just like Manmeet. Sarkar says after seeing it he made a trap for Meet. Sarkar praises Meet as she didn't get into the trap that easily but with Manmeet's final strike Meet fell into their trap.
Meet says to Raj that she thinks this marriage is not right. Babita comes and says to Meet that she feels that this marriage is not right as she didn't accept the marriage wholeheartedly. Babita asks Meet to accept the marriage wholeheartedly then she will not feel anything. Babita asks Chanda to help Meet get ready. Chanda also tells Meet that she is lucky as she is marrying Manmeet. Meghana thinks she has to tell Meet about this? Yashoda warns all the family members that everyone should keep the secret that Manmeet is their 3 rd son. Meet asks Chanda if she can do a favour for her and asks if Chanda can insert a camera in Sarkar's house. Chanda says it is not possible as no one can go in and out of Sarkar's house until Shagun marriage is completed. Meet feels suspicious and decides to go to Sarkar's house. Manmeet takes Yashoda's blessing and leaves from there saying he has to go to the Haldi function. Yashoda agrees. Sarkar asks Manmeet to go from the back door and tells him to be careful with Meet. Manmeet leaves from the back door. Manmeet sees Meet and hides his hand behind a saree that is hanging. Meet sees Manmeet and thinks what is he doing here?
Episode ends.