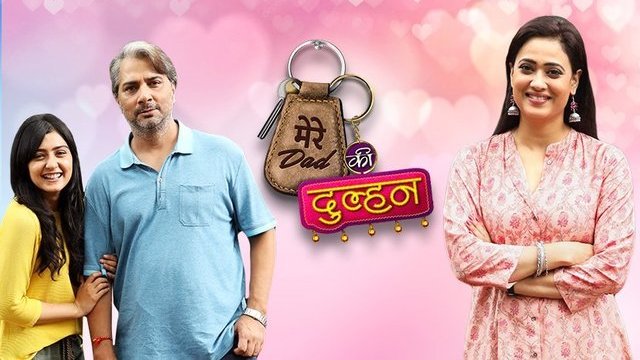 Mere Dad Ki Dulhan Upcoming Story, Spoilers, Latest Gossip, Future Story, Latest News and Upcoming Twist, on Justhowbiz.net
Episode begins with Amber doing video call conferencing with the entire family and cousins of Guneet. He is sitting with Guneet and Pammi both. They ask Amber to sing a song and it says to him to sing "Bade Acche Lagte Hain" for her. Amber gives a look to Guneet as she is demanding this from him and he sings exclusively for her and also for the entire family.
All of them gets immensely impressed with his talent of singing. Everybody clapped for him when he is done with his singing. One of the relatives of Guneet asked if he can sing a Punjabi song as he is going to marry a girl who is Punjabi by birth. Before he can reply Pammi answers on his behalf and says, yes he can sing and Amber gets into an embarrassing situation. he says I really don't know how to sing a Punjabi song and I have no idea as well to which Pammi says he is just being modest and nothing else.
When one of the relatives says that it is unfair that we don't know how to sing the Punjabi song then it will not be a suitable thing but Amber does sing a Punjabi song just to make them convinced that he is good at it and Pammi says see I was always right. Amidst of all these, the relatives says we are no less and even we can do singing and dancing and one of the relatives played a punjabi song and everybody starts to dance from their household through the video call.
Niya and Guneet also start to dance whereas a cousin sister of Guneet asks Amber to sing a song for the sangeet ceremony and Guneet will perform on it. Later on Amber had a conversation with Niya and she says that I am so happy that Guneet is going to be part of our small world and mark my words, she is going to make this world of us more beautiful with her company and presence. Guneet also comes there and sits besides them like a complete family.
The three of them share a group hug and are happy to have each other by their side. Later on, Amber is sitting inside his room and he calls Guneet who came there to say him goodbye before going to her house. Amber says to her that he has something to share with her. He extends a jewellery box towards her and says this is one of the most precious things which I kept with utmost care all this long but from now on you are going to keep this with you as it belongs to you now.
He says this jewellery belongs to Anjali but now it is yours because this is something is my family traditional necklace and I want it to be with you now. Guneet says nothing and comes home with the box. Later on during a conversation when Niya finds out about all these she tries to make Amber understand that maybe he has no bad intentions behind all his activities.
However, this is going to be hurtful for Guneet because this is the first time she is getting married in her life and she must have some dreams and imaginations regarding it. she says that just for you and your choice, Guneet took a light coloured saree for the marriage function whereas she wants to wear a heavy work bridal saree.
Moreover I don't think my mother would like to see someone else in her jewelleries except her daughter, which is me. Amber gets into a deep thinking when Niya says she is going to manage everything and he doesn't need to worry about it at all.
Precap – Niya arranges for a bachelor party for Guneet with her friends. Amber comes to a shop with Hakim.