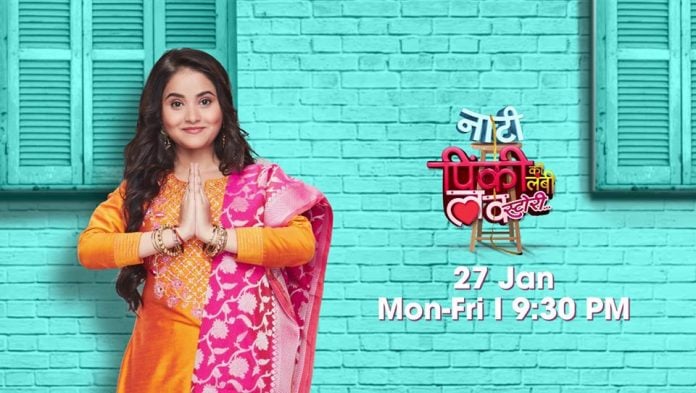 Naati Pinky Ki Lambi Love Story  Upcoming Story, Spoilers, Latest Gossip, Future Story, Latest News and Upcoming Twist, on Justhowbiz.net
The episode starts Pinky says she will become his wife. Arjun looks on. Nandu asks her to feed food. Pinky makes her eat, when Arjun about to leave Pinky stops him and cleans his hand and asks him to confess his love. Arjun leaves. Revati looks frustrated. Pinky informs to Antara that Arjun left from home.
Antara stops Arjun saying she went to the temple for him to thank god for making him realize his love. Arjun says i asked you to not inform anyone but you. Antara says you're lucky to get your love twice in your life and Ananya will be happy seeing you with Pinky.
Arjun stays silent. Antara says fine I won't tell to anyone and feeds him Laddo. Arjun leaves. Sunny says your speech is failed because Arjun didn't changed. Antara says her actions result will come out soon.
Sunny about to have laddo but Antara stops him saying Laddo is mixed with bangh. Sunny asks why. Antara says when Arjun is intoxicated than he will reveal to Pinky that how much he loves her.
Arjun gets intoxicated and imagines Pinky everywhere asking him to tell that he loves her. He reaches to home and Pinky asks him what happened. Arjun smiles saying I become mad because I'm running from my heart even though everyone knows my feelings.
 Pinky takes him to his room and asks him to sleep. Arjun says I love you when you came to my life as Imarti and when you did suicide drama than I felt like losing my life and I'm bad person because I couldn't confess love to her.
Pinky says you're good and I can't see you in pain, if you don't want to say it than don't and when she about to leave Arjun drags her towards him and confesses that he loves her. Pinky smiles happily.
Next Arjun gets conscious and notices he is sleeping with Pinky, he sits up and looks on when Pinky is smiling and coming towards him. Pinky signs her chunri strucked with him. Arjun leaves giving her Chunri. Pinky happily says it's love from both sides thinks it will be good if her family is with her on this happy moment.
Pinky meets Antara and informs her that Arjun loves her. Antara happily hugs her. Pinky notices Nalini and asks her to forgive her saying Arjun accepted her. Nalini hugs her. Asha and Ram too feels happy and her dad forgives her, it's turned to be Pinky imagination.
Nalini asks doctor about Ram health. Doctor says Ram don't want to meet anyone and asks them to make happy atmosphere around Ram for his good health. Asha says Pinky betrayed Ram brother's trust. Antara stops Asha.
Nalini says how can you stop Asha after seeing your brother condition. Antara says brother must leave about what people think about us and he is getting sick thinking about it. Nalini says leave it and I have to make Pinky get back to us after seeing her he will fine. Antara says why are you behind Pinky? Let her live. Nalini leaves.
Pinky asks Nandu to finish her breakfast. Arjun asks Nandu for towel. Nandu smiles seeing lipstick mark on his shirt. Arjun asks why are laughing and he leaves saying everyone is mad. Sunny too laughs seeing that mark and Sunny asks what happened in the night and signs him to see the mark.
Arjun reminsces how he slept with Pinky beside him and when he about to leave. Nandu asks  him to have Tiffin with them. Arjun feeds her. Nandu asks how choti mom lipstick came on your shirt. Arjun and Pinky at same time says we can't talk while having food.
Both looks on. Arjun thinks how to know from Pinky about last night. Pinky thinks last night you confessed your love to me and thanks for correcting everything.
Click to read:
Naati Pinky Ki Lambi Love Story 16th September 2020 Written Update: Arjun insults Pinky and rejects her love proposal
Naati Pinky Ki Lambi Love Story 17th September 2020 Written Update: Pinky is back to Arjun home with a bang