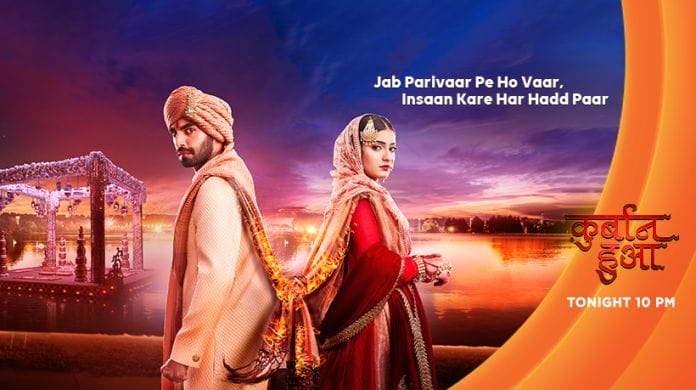 Qurbaan Hua Upcoming Story, Spoilers, Latest Gossip , Future Story, Latest News and Upcoming Twist, on Justhowbiz.net
Chahat hears the news of her dad's death and is left dumbstruck. She runs to go outside without noticing that her dupatta caught fire. She sees her dad's thrashed car, she is about to go there but Neel sees her. He notices the fire on her dupatta and holds her keeping hand on her mouth and puts off the fire. Chahat tries to free herself and is broken. Vyas ji and others celebrate this moment, while Chahat becomes unconscious.
Family members find Neel for telling him and see him holding unconscious Chahat. They ask him why she fell unconscious so he replies that she had kept fast praying for Dr Baig to be found soon but she became weak due to it. Mama ji asks him to take her inside, Neel asks everyone to prepare for celebrating as the Ravan for this house has perished. He takes her inside and puts her in a bathtub and opens the shower.
Chahat wakes up recalling what Mami said and realises it was not a dream. She suddenly holds Neel and cries, after a moment she gets back. She sees Neel and says that he must be very happy today. She asks him to leave her alone and mourn for her dad. He says that he has a surprise for her and leaves. He comes back bringing clothes for her and goes. Chahat breaks down and remembers her dad watching his photo. Meanwhile other family members celebrate his death by burning crackers. Neel comes to her and tells that he has made arrangements for celebrating her dad's death.
Neel takes Chahat out where everyone is burning crackers. Mama ji sees them and comes to talk to Chahat saying that her fast and prayer got accepted by God and Dr Baig died a painful death. Neel says that it was his idea of celebration and asks her to celebrate along with him. He then shows her the damaged car and deepens her inner wounds. She says that they are really cold hearted to celebrate her dad's death. He says that today she will celebrate her dad's death instead of mourning.
Vyas ji plays with the baby, while Pramukh and Naveli become cozy with each other. Vyas ji goes inside to find milk, while Naveli takes a fuljhari to light it but Pramukh snatches it from her and says that he has added a harmful chemical to it and it is for Vyas ji. He tells her that it can make Vyas ji blind and hence he can get the position of mahant replacing him. Vyas ji comes inside and goes to light the Diya in front of Saraswati's photo. Pramukh gives the fuljhari to Naveli and asks her to take it out and they go, Vyas ji takes the milk and goes out too.
Chahat says to Neel that God is watching his act, but he says that Saraswati will be watching all this an being happy about it. He forces her to hold a fuljhari but she asks him to take it away saying that she is scared of fire. She tries to go but sees crackers burning everywhere around her and gets scared. Mama ji comes and asks him not to force her if she is scared of crackers. He takes Chahat along with him and gives him a bowl of sweet and asks her to eat it and give to others also.
Pramukh goes to Vyas ji requesting him to light a fuljhari for Saraswati's happiness. He picks up the fuljhari, while Chahat thinks about what everyone said about her dad and becomes upset. She breaks down and decides to tell Vyas ji that Dr. Baig tried to save Saraswati and not kill her. The episode ends.