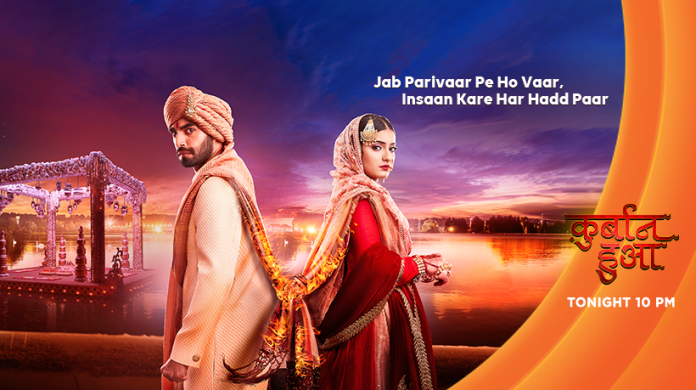 Qurbaan Hua Upcoming Story, Spoilers, Latest Gossip, Future Story, Latest News and Upcoming Twist, on Justhowbiz.net
The inspector asks Bhopu whose clothes are these but Bhopu says that these belong to him. The inspector is about to take Bhopu to police station but Vyas ji stops him and says that he has been caught before robbery so they don't want to make any complaint and forgive his mistake. They leave then Vyas ji confronts Bhopu saying that he trusted him but now he has broken his trust.
 Neel says to Bhopu that he should be thankful for not getting arrested and asks him to not show his face again. Chahat tries to console Bhopu but Neel asks her to come along with him. At home she confronts Neel for not trusting his best friend but he says that the matter is about the long tradition of his family protecting the statue and Bhopu wanted to steal that.
Neel shows him some photos and says that his family has loved Bhopu like a family member but he made him realize that that no one is trustworthy. Mami praises Aalekh for smartly putting all blame on Bhopu but asks whether Neel will believe all this so easily. He says that he had left proof which made Neel believe.
Suddenly Chahat shows him a photo of Saraswati's bangles and asks where did he get this from but he gets frustrated and says that he is feeling cheated and she is talking nonsense. Chahat thinks that she won't be able to talk to him straight about this and decides to change her ways. Chahat starts saying that Bhopu has done such a big crime and he should have been arrested and tortured to teach him a lesson, she says all this to instigate Neel to take stand for Bhopu.
Neel reacts to her talks saying that he is his best friend so Chahat asks him to talk to Bhopu once if he cares about him. Neel expresses his confusion between the statue and his best friend and is unable to decide what is right or wrong. She makes a heart on her fingers and asks him what it is, he says it's a heart so Chahat gives her heart to him.
She says that he can see from her point of view whenever he is in confusion. She says that she will prove Bhopu's innocence and catch the real culprit at any cost and goes. Mama ji calls Neel down and asks if he is fine so he says that he is fine and is going to temple to check whether the other statues are real or fake. He says after all he is Vyas ji's son, thiis makes Vyas ji proud and happy.
Vyas ji expresses his happiness on hearing Neel considering himself as his son and asks Mama ji to help Neel if he needs anything. Meanwhile Chahat goes to find the statue maker and hears shouts from a house and checks in, she sees the same guy being beaten by his wife. Chahat goes in and interrupts and tells the lady that her husband is such a good person and makes so many statues for the temple. She tells that he came to meet her in hotel as she had given him order for statues.
 She requests the lady to give her some water so she goes, after that Chahat confronts the man and asks him who gave him the order to make fake statue else she will narrate the whole story to his wife. He  gets scared and confesses that Bhopu didn't give him the order, she records all this and asks who gave him the order so he doesn't tell her and says that the man is dangerous and will kill him if he tells.
Chahat asks him to tell and promises his name won't come up, that moment his wife comes and sees Chahat close to him so she pushes her far and asks her to go away. Neel finishes his work at temple when he gets a call from doctor asking about Baig's location, so Neel says that he will send location in some time. He wonders how to ask Bhopu about the location and gets a message of location from Bhopu and feels guilty for not giving him a chance. Meanwhile the lady tries to throw Chahat out of house and raises hand on her but Chahat blocks her and notices Saraswati's bangle on her hand. Neel reaches Bhopu's given location and is relieved to see him fine.
 He gives water to Baig when he sees him and says he is Neel and says that his face recovered and his surgery was successful, Neel is shocked at knowing that he saved his life. But he says that Baig can't even stand and is saying that he saved him, he decides to get Baig treated to find out who would have thrown the molten iron on him. The episode ends.