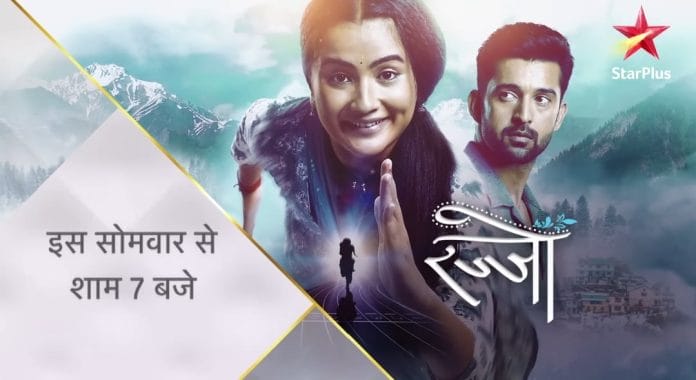 Rajjo Upcoming Story, Spoilers, Latest Gossip, Future Story, Latest News and Upcoming Twist, on Justhowbiz.net
The episode starts with Arjun asking if he is hiding something from her. She asks him to not do anything such. He asks him to remove her bracelet. She asks if he isn't excited about going alone with her to the jungle resort the next day. Arjun breaks Urvashi's bracelet mistakenly. He asks if they can postpone it. Urvashi reminds him that the next day is their anniversary, it's the day when she asked him for a date for the first time and he agreed.
Arjun says yes. Urvashi says that she doesn't want to forget that day and celebrate it everyday of her whole life, but he refusing this She gets angry. Arjun apologizes to her and agrees to go the next day. Urvashi hugs him. Arjun says that he will gift her new bracelet. Urvashi wishes to kiss Arjun, but says that he won't let her to kiss him. Arjun wonders how to make Rajjo understand.
Madhu is performing God's puja. Arjun comes to Madhu. He says that a mother can question his son. Madhu says that she doubted him and regret it. Arjun says that he didn't feel bad about it. Madhu feeds the kheer to Arjun. Arjun remembers about Rajjo. He says that he has client meeting and will eat in his room. He leaves taking the food plate. Kalindi taunts Chirag about eating his dinner in the room by watching TV. She tries to instigate Madhu against Arjun. She says that Madhu should check on Arjun if he has any problem. Dadaji asks Kalindi to not worry about Arjun and have food.
Arjun gives the food plate to Rajjo to eat. Rajjo is excited to see so many dishes. She recalls a FB in which Manorama feeds her favorite food to Rajjo and wishes that Rajjo gets a prince who offers her kheer on a silver plate. Rajjo burns her mouth by eating the hot kheer. Arjun scolds Rajjo. He gives her water. On the other hand, Manorama is having dinner and misses Rajjo. While Rajjo is having enjoying the dinner, Arjun is worried about leaving Rajjo alone and going out with Urvashi. He phones to the rescue center to get update.
The morning Rajjo laughs when Arjun falls down from the couch in sleep. He goes to freshen up first. He then gives Rajjo brush to clean her teeth. Arjun gets mesmerized when Rajjo comes after getting ready. Rajjo asks from where he got the clothes for her. Arjun says that his friend Bharat got this. He scolds him stupid for getting only one. Rajjo says that it's beautiful. They leave. Arjun leaves from the main door while Rajjo gets downstairs via the balcony. A neighborhood woman sees Rajjo.
Madhu gets upset that Arjun left without meeting her. Dadaji says that Arjun must be in hurry. Dadaji says that he is going to ask Arjun to take Madu for a holiday before the wedding. Pratap likes the idea and suggests going for a family trip. Kalindi brings the food plate from Arjun's room and complains that he wasted the food.
Arjun and Rajjo come to the rescue center to find Manorama. The staff says to Manorama and the other survivors to go out as the VIP and the reporters have come. Manorama wonders who has come. A lady says that a rich must have come. She says to let go to get food and clothes. Manorama says that she doesn't want someone's charity, she just wants to find her daughter. The lady asks to give her the food and clothes.
Pushkar reaches the rescue center along with his wife. He gets happy to see the reporters there, but pretends that he doesn't like show up. Arjun and Rajjo are checking the update list of the survivors of the flood, but the servor goes down before they could see Manorama's name. Rajjo gets sad when Arjun says that they didn't get any information about her mom. He encourages Rajjo to not give up.
Pushkar is talking to the reporters. Manorama comes out of the center. Arjun also takes Rajjo out Manorama and Rajjo fail to see each other. Manorama notices Rajjo when Arjun and Rajjo drive off. Manorama calls out to Rajjo and runs behind a car. After running a while, she falls down. She shouts that her mom is here.
The episode ends.
Precap: Rajjo promises Arjun that she won't make any noise. She asks Arjun to go. Arjun leaves locking his room with Rajjo inside it. Kalindi tells about the same to Arjun. Madhu breaks the lock and opens Arjun's room door. Madhu and family look on shocked.
Rajjo 3rd September 2022 Written Update: Urvashi finds Rajjo's cloth in Arjun's bathroom