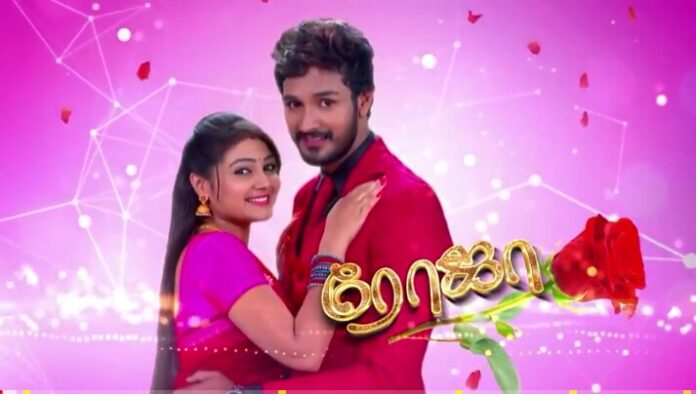 Roja Upcoming Story, Spoilers, Latest Gossip, Future Story, Latest News and Upcoming Twist, on Justhowbiz.net
Today episode starts with Arjun, Roja and Pooja enter into their room. Roja ask her name she replies as Monika. Hearing her voice she doubts she is someone familiar to her. Arjun saying to her Roja wanna pass out at anycost she might train her a lot. Roja ask her to remove the mask and sheild. She refuse to do it but then remove it.
 Roja gets surprise seeing Pooja there. She ask to her what's she doing here? Pooja replies to her that she miss Aswin a lot. She never get a chance to meet him. She used to talk with him in mobile so using tutor chance she came here to meet him. Roja smiles. Arjun calls to Anu and order her to bring tea to them. She refuse to do it but he threaten her with that video. Aswin comes there so Pooja wears the mask again. Arjun tease him what he is doing here?
 Aswin wish to see that girl face so hesitate to stand there. Arjun takes Roja out giving privacy to them. Pooja starts flirting with him and hold his hand. He ask her to leave his hand. Pooja removes her mask and smile to him. Aswin feels happy and hug her in happiness. Both are busy in hugging each other not noticing Anu there. Anu question Anu what's this all? She never think he is so cheap to behave in this way she rushed down to inform this to all.
Anu starts to cry hugging Annapoorna then informs to her whatever she saw upstairs? Annapoorna gets angry and called Kalpana there? She question her what's going on here? She says to her that she has no idea about it let question both and comes to an answer? Arjun and Roja comes there and says to them Anu is lie nothing happen like that.
Annapoorna blames Roja she trapped Arjun by seducing him like the way this girl too try trap him too. Anu complaints she came here to seduce Aswin. Arjun keeps supporting them. Pooja comes down. Yasodha question her and about to slap her but Pooja hold her hand and slap her back. She says to them she is innocent don't blame her unnecessarily.
Annapoorna ask them to call Aswin. Arjun says to her Aswin not here he went outside. Just then Aswin enter into home from front door make all surprise. Arjun says its all Anu's hallucination because she fears that all girls are behind him. Aswin teased Anu and goes upstairs. Aswin thank Arjun and Roja for giving an awesome idea to him escape from Anu.
Shenbagam gets consciousness. Nurse informed this news to Manickam assisstant. She informs this to Roja. Anu evesdrop it. Roja plead to Arjun to take her near Shenbagam she badly wanna meet her. Arjun agree with it. When they leaves Anu informed this news to Divya. In Pooja house her father searching an groom for Pooja.
She says to him clearly that she don't wanna marry anyone. Next day her brother going to play cricket his father stopped him likewise Pooja too. Priest comes there and check the Pooja horoscope. He reveals to them that Pooja got married already this is what her horoscope saying. Pooja gets surprise hearing it. Her father lashes out at him for lie. He says to him strongly she got married.
Arjun and Roja enters into hospital. Anu and Divya hides seeing them.
Episode end.