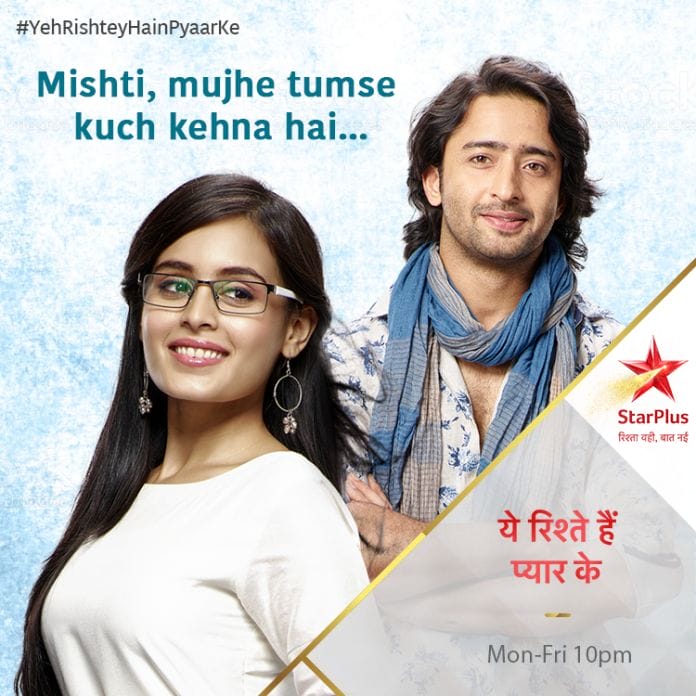 In the upcoming episode of Star plus popular show Yeh Rishtey Hain Pyaar Ke, Nishant will deny knowing about Abir and remind her that their alliance is only till this stage. Meenakshi leave. At the time of wedding Kuhu will go up to bring Mishti. She will inform the others in shock Mishti has left leaving a letter. Rajshri will tell them all that Mishti loves Abir and that she agreed to marry Nishant only for sake of Vishamber as she feels this family has done her a big favor in bringing her up. Rajshri tell them she gave her the freedom to fly and not to come back here. Vishamber will be hurt with Rajshri's words and speak in favor of Nishant. Nishant feel guilty. Mishti will search for Abir. She give her bangles to a scooty driver and takes his scooty.
The doctor assume Abir to be Nishant as he had the medical report with him. Doctor check with hospital about his case history and about to give injection thinking he is alcohol addict. Abir will wake up and let them know he is Abir Rajvansh and that he has to leave immediately. Doctor advice him not to as he is weak. Abir insist. Mishti will go to Abir's house and learn from Nanu and Jugnu that Abir has not come home. Jugnu tell her Meenakshi is searching and think to find him before her. Mishti will find location in tracker and leave.
Yashpal will call Vishamber to inform Mishti has come to their house. Vishamber assure Nishant to get her back. The entire family leaves. Jugnu will tell Kunal that Mishti came home. Meenakshi hear it and think to find Abir first. Nishant drive the car in direction of lake lying to family that he heard Kunal saying its were Abir and Mishti meet usually. He is determined to reach Mishti before she learn truth. Abir steal the ambulance and drive off. Doctor shout his name and Mishti hear it. She learn its Abir driving and ask Doctor to inform police.
Stay tuned for more updates.