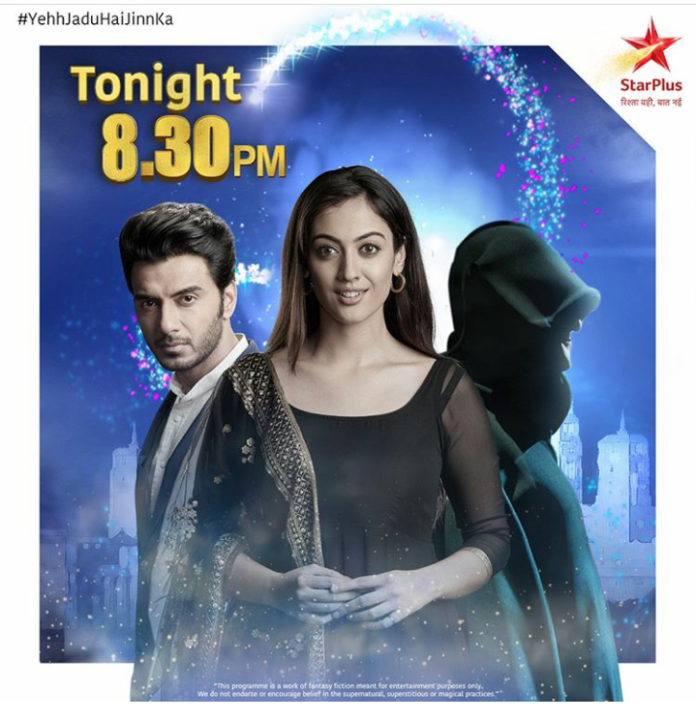 Yehh Jadu Hai Jinn Ka Upcoming Story, Spoilers, Latest Gossip , Future Story, Latest News and Upcoming Twist, on Justhowbiz.net

Episode starts with Aman and Roshni are in their bed room when they are not able to notice the obvious danger on their life. They are discussing among themselves. Water jinn is getiingg happy to see her magic is working and infact it works on them perfectly. Aman and Roshni goes away from each other as soon the water touched then and both goes under her control. Aman and Roshni feels they are in Switzerland.
Shayari goes inside a cave with Rehaan and they goes inside to find the good jinn but unable to see anyone. Shayari says ghus place seems changed and he must be seen here only and tries to look for her. Aman gives Roshni a red rose and they are behaving like zombies thinking they must be in Switzerland. The water jinn thinks the moment they will come in water, all their powers will go to water jinn.
Rehaan who is in the cave with Shayari discovers he has lost his powers and he recalls what exactly happened and he says everything to Shayari. She thinks to call Roshni and Aman and warns them but they are not taking the calls. Rehaan calls Tabeezi and informs her everything. Rubina decided to warn Aman and Roshni but before they can reach out both of them fell down inside the water.
Rubina couldn't stop them and water jinn extrated their powers and transformed them into a mermaid and she approaches towards Armaan then but with the help of housemates they saves Armaan and he helps them to become normal. Roshni and Aman realises they are not able to use their powers anymore.
Rubina and other housemates chained the water jinn for some time. Rehaan is getting worried for Aman and Roshni while Shayari is trying to rescue Kiki. She asks him for a help when he says you know J lost my powers then how will I help you? Shayari says people can help with out having powers too.
Aman asks all the housemates to empty all the water from the house while Rehaan is trying to help Shayari. Water jinn gets free from the chain and claims no one can stop her from getting the fourth power. Shayari ables to rescue Kiki but he is unable to recognise her.
Precap : Water jinn is taking away Armaan to the hell of Jinnland. Aman and Roshni tried to stop her.