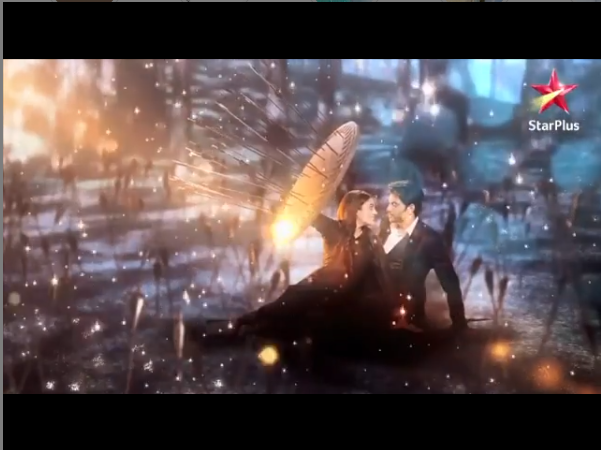 In today's episode everyone is admiring the night. Roshni says that it's a beautiful night but Aman says its dangerous too. Dadi says that tonight sword will appear and the person who will lift it will become Jinnad ka Baadshah. Parveen provokes Aman to go to Kala Jungle because Kabir will become powerful. Aman resists but she provokes him in name of Roshni saying that Kabir wants Roshni. Aman says that it's never going to happen. Aman agrees to go to Kala jungle and leaves. Parveen is happy and thinks that now both brothers will fight and she will become Jinnad Ki Mallika. 
Aman tricks and locks Roshni in a jail so that she doesn't come behind him. Roshni insists that he needs him because he is weak today. Roshni don't have clips to cut the jail. Aman promises to come back no matter what to talk something important and leaves. 
Kabir in Kala jungle and catches a star in his palm. He is waiting for Aman and Aman arrives.  Kabir says that he has come for power but Aman counters that he hasn't come for power but he has come to stop power going in wrong hands. Kabir attacks before Aman calls Baazigar. 
Roshni is struggling to come out of jail and calls for help. Kabir in jungle says that tonight stars will fall from sky and will flood earth and those who are weak will get washed away. Aman getting weaker and weaker.
At home, Dadi, Fufi and Rubina trying to figure out from book about the solution. Parveen does the magic and book's drawings fades. Also Rubina (Tabizi) becomes unconscious. Chotu comes and informs everyone that Roshni is in jail. 
Kabir calls for sword and it falls from sky. Aman stands against him and Kabir again attacks him multiple times. He was about to kill Aman when Parveen kiils him with crossbow. Family comes to help Roshni but fails. Dadi tells Chotu to bring Peetal Darwaza. Roshni clips comes to her and she opens the jail. 
Kabir roll down the cliff and comes where Parveen is standing. Kabir says that she loves Aman more. Parveen says that she never differentiate between her sons. This arrow has his name, the next one has Aman's name on it. Kabir questions the motive, she says because she is Sifrat Jinn, she loves no one except her. She takes out Kabir's heart and absorbs it within herself. From cliff Aman tries to see Kabir but fails to do so. 
Precap: 
Latest Promo.