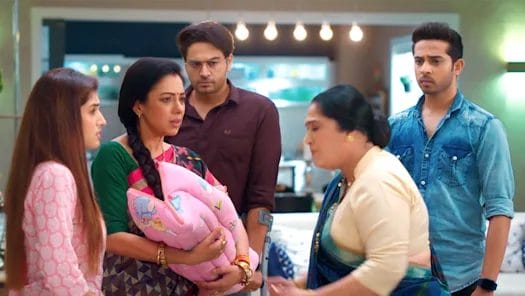 Anupamaa Spoilers, Upcoming Story, Latest Gossip , Future Story, Latest News and Upcoming Twist on Justshowbiz.net
In today's episode,  Barkha asks Anupama how does she know. Anupama says a mother knows other mother well. She says if Maaya wouldn't have any prove shoe wouldn't have claimed Anu in front of Anuj. Ankush says Maaya might be wrong. Anupama says they are afraid thus not seeing the reality. She asks Anuj to face the truth with a strong heart. Maaya takes care of Anu. She sees Anu's picture with Anuj and Anupama and keep it aside.
Anuj says if Maaya is Anu's biological mother than why she left her. He says he can't lose Anu to Maaya who left her long back. Anupama asks Anuj to keep calm. Anuj says to Anupama that she can see Maaya's pain but can't understand her daughter. He adds he won't let Maaya separate him from Anu. Maaya sees her picture with Anu. She says Anu belongs to her and will take her away surely. Vanraj fixes his door. Leela asks Vanraj what he is doing. Vanraj says lubricating gate as its sound is irritating him. Leela says to Vanraj that not gate but Kavya is the reason. She asks Vanraj to keep a watch as Kavya is flying high. Leela add Maaya entered in the life not only to trouble Anupama but also their life through Kavya. She asks Vanraj to stop Kavya from going to London. Hasmuk comes. Vanraj and Leela stops talking. Hasmuk asks Vanraj and Leela what they were talking as they stopped post seeing him. Paritosh comes and shares his new business plan to Shahs. Vanraj gets irked. Paritosh says he will sell eatables on traffic signal. He seeks Leelas' help in growing in his business. Vanraj and Hasmuk worries for Paritosh.
Anuj says to Anupama that she has three children but he has only Anu. He breaks down and says he can't live without Anu. Maaya tells to Anupama, Anuj that if she wouldn't have met with an accident Anu would have been with her. She tells her accident story. Maaya gets adamant to take back Anu.
Paritosh asks Leela to cook Gurajti famous dishes. Leela refuse to help Paritosh. Anuj breaks down thinking Maaya will take Anu. Anupama console Anuj. Anu looks for Maaya. She asks Anuj, Anupama if Maaya left her again or she is dreaming. Anuj says he expects she is dreaming. Anu shares she needs Anuj, Anupama and Maaya too. Anuj, Anupama cries hugging Anu.
Paritosh says people don't understand the real talent. He dreams of becoming successful business man. Anu gets adamant to meet or go with Maaya. Anupama decide to bring Maay to their home. Anuj stands stunned. [Episode Ends]
Precap: Maaya and Anupama challenges each other over winning Anu in next 15 days.
Also See:
Anupama 28th January 2023 Written Update: Anu decide to go with Maaya