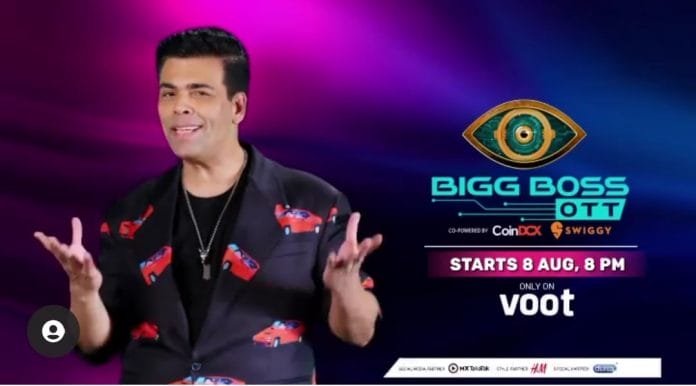 Bigg Boss OTT Upcoming Story, Spoilers, Latest Gossip, Future Story, Latest News and Upcoming Twist, on Justhowbiz.net
Karan enters thr stage and welcomes the audience into the show. He says this is the last week. This week Bigg Boss brought such a twist that now they are playing solo. He asks not to be curious.
Day 35
08:00 AM
The inmates wake up to the song patola. Pratik dances near Mirror. Neha dances on the bed. Divya dances in the garden. Moose also dances in the garden and hugs Nishant. Pratik and Neha hug each other.
12:15 PM
The house mates does the Aarti of Lord Ganesha. Raqesh does the Aarti singing the mantras. Raqesh asks them to keep their hand on his hand. They hail for the Lord Ganesha. Muskan joins them.
12:30 PM
Moose tells Pratik that the Aarti is done. Pratik tells Neha that Aarti is done without them and it's done.
02:15 PM
Neha does the Aarti and passes it to Pratik who does the Aarti and Raqesh recites the Mantras and sings Aarti song. They hail for the Lord Ganesha. Nishant does the Aarti as well and gives to the house mates. They hail for the Lord Ganesha. They bid bye to the Lord Ganesha. Raqesh kisses the Lord Ganesha and does the Visarjan.
02:45 PM
Neha asks Raqesh what's the scene. She asks whether he don't want to do it. He says he don't want to and he don't want to interfere in things. He says he has lived his life the way he wants. Neha says he should stand up for himself.
04:30 PM
Bigg Boss says that keeping the last five weeks in their mind and asks to punish whoever they want and chose whose performance they loved. Pratik choses Divya and Raqesh for the punishment. He says his point of view. He says the best is Nishant and himself and says his point of view. Nishant choses Divya and Shamitha for the punishment and says his point of view. He then choses himself for best and then choses Pratik as best. He tells his point of view. Shamitha says that she has worked more than anyone in the house and she has said whatever she felt like. Divya says she wants to defend herself. She says that she only got to do the duty for one day. Divya and Pratik argue with each other. Divya says that last time when they wanted to punish her then she redeem herself. Pratik and Nishant argue. She choses Pratik and Neha as the worst players and herself and Raqesh as the best and tells her point of view. Moose says that the best performances are Pratik and Nishant. The worst players are Shamitha and Raqesh. She tells her point of view. Shamitha takes herself as best performances and tells her point of view. Then Neha as the second best. She choses Moose and Divya as the punishment. She says her point of view. Raqesh choses Pratik and says he has made the many tasks aborted. Pratik says only one. Raqesh choses Moose as the second bad. He says only Nishant as the strong. Nishant asks why he is comparing. He choses Divya and himself as the best. Pratik laughs. Neha choses Divya and Moose as the worst, Moose says her reason was wrong when she says her point of view. Nishant supports Moose. She then choses Shamitha and herself as the best performances. She says her point of view. They count the votes. Best performances are Nishant according to the votes. Divya says she is not happy with punishment. Nishant shouts at her calling out her hypocrisy. Divya says if she takes punishment then she is the best. Pratik and Nishant shout at her. Nishant and Divya get into an argument. Divya says she won't take the punishment. Nishant and her shout at each other. Neha asks whether she can take the punishment. Pratik asks why would she. Pratik apologizes for his words to Moose.
05:30 PM
Nishant says they should decide. Divya says she wants Pratik to be punished and he is not best. Pratjk asks he did Pooja without him yo which Raqesh says he doesn't exist for him. Divya calls Shamitha insecure. Shamitha asks what she has for her to be insecure. Shamitha and Divya gets into an argument. Shamitha says she won't agree with Divya bring the best. Divya creates an issue of everything and behaves like a hypocrite.
05:45 PM
Bigg Boss says that hr has always thinking about them to be mature but they always do this. He asks them to take with acceptance. Pratik says he will take the punishment. Divya talks in between when Nishant says Pratik will take the punishment. Nishant asks her not to talk in between. Pratik requests Moose that he wants to take the punishment. Divya intentionally tries to provoke Moose. Moose says she wants to take it. Shamitha says Divya and Moose are punished and Nishant and Pratik as best. Divya calls him as irritating and asks him to fuck off. He says he is a fucker. Shamitha tells Pratik that even if he is right, he shouts which gets negative. She asks him not to shout and do everything calmly.
06:00 PM
Nishant reads the letter where it says that Divya and Moose got punishment where they both will write forgive me ahd they keep on doing this till Bigg Boss asks them to stop.
06:15 PM
Raqesh asks Divya to chill and tells her that he is with her. Hr hugs her. Nishant calls Pratik with him. Divya says she is hurt with what Nishant did. Neha and Shamitha calls her fake. Moose writes on the board and Pratik stands with her. Moose asks them why they are coming behind her.
06:30 PM
Shamitha asks Raqesh as to what is happening to him. Raqesh says he is lost because he is thinking about himself. Divya tells to Nishant that he is well played and the audience are watching everything. He has made friends and has come into the best. She thought they will be good till the final week but she has lost the faith. Nishant says okay. Shamitha tells Raqesh that she has worked a lot on herself. Raqesh asks why she reacts soo much. Shamitha says she had to defend herself and it has become a natural process for her. She shares about the death of her first boy friend. She tells him that it has not been easy for her. She says she is not perfect. She apologises if he thinks she is bossy.
07:45 PM
Shamitha asks Raqesh whether he thinks Divya is better player than Nishant. Raqesh says he likes her work. Neha tells him that he didn't understand the game. Raqesh says she has guts. Shamitha says when she defends herself she is called things. Raqesh says she is weak infront of Divya. He says he took her name becuse she took his name.
08:15 PM
Moose tells Nishant that she had hundred percent surity from him. She can't be with him. Nishant asks it is like everytime. Bigg Boss says that the punishment is over now. Moose and Nishant hug each other.
08:45 PM
Divya says she got two friends one Raqesh and Nishant to him. When he had an option he would have thought about their friendship. She says that Pratjk says she got no friends but she has been doing constant efforts. She says she don't think they can be friends. He says it's her wish and its generic for him.
09:00 PM
Shamitha reads the letter which says Nishant and Pratjk gets the Swiggy best food. Nishant and Pratik hug each other and Moose sits on them. It reads that only Nishant and Pratik can eat. Moose says their friend Moose can eat as well.
09:15 PM
Bigg Boss says that now it's time for their report card and the audience is happy with them hence there won't be any effect on their tomorrow.
01:00 AM
Raqesh says that the audience are liking the show. Neha jokes to which Raqesh laughs. Neha says that she don't know whether she has career or not. Shamitha tells Raqesh that he has a soft corner for Divya and she has done the same. He asks her to deal with it.
01:30 PM
Pratik tells Neha that their friendship didn't break. He asks her to fill water for him. She says she don't want to talk with him and pushes him.
Sunday Ka Vaar with Karan
Karan says that soo much has happened in the house. He says that in the next week the contestants will stop each other from wining. He says that he has got to wish them every week and it's their favourite festival Ganesh Chaturthi. He wishes that Lord Ganesha fulfills their Life with happiness. He says this is the last week and the next week it's finale. He asks to continue the connection and asks to to meet the contestants. The contestants wish him Happy Ganesh Chaturthi and hail for Lord Ganesha. Karan asks what's special today and Nishant says they have prepared for something. Shamitha starts the dance with the song Shree Ganesha. Divya and Shamitha dance. Raqesh dances. Nishu dances. Moose and all the house mates dance to the song. They hail for Lord Ganesha as the dance ends. Karan praises them. He teases them. He asks whether they thought the connection will be dissolved. Karan says he don't know how this happened. He says that someone has wished. He says Divya has prayed hard. Divya says only theoretically the connections are broken. Karan says they don't know but he knows everything. He tells Raqesh to go to the store room and he has a thing for him. Karan calls Raqesh Divya 2.2. Raqesh brings Modak. Pratik feeds to everyone. Karan blesses them. He asks Nishant whom it was hard to choreograph. Nishant says it's Pratik. He teases him. Karan says he wants to shoe sweet thing to Divya. He shows the Bigg Boss trophy. They all clap. Karan says for this he needs the chair.
He says it's twelve September and after six days they will get the Prestigious and Shining trophy. He asks them to keep emotions aside and think about themselves. He says only Divya is playing solo and for others it will have an effect. He says one contestant may have to leave the house. He says the names of the nominated contestants. He says that he wants to know as to why they lost the immunity chance by messing it up. He says it's ridiculous. He says he don't want to talk about it but wants to know as to what Raqesh and Nishant duscussed before the task. He asks Nishant who he has priority. He says Pratik and Moose. He asks Raqesh the same who says it's Shamitha and Divya. He asks Neha as to what thoughts she has about Raqesh not giving her the priority. Neha says the thoughts keep changing here. She says he thinks that Divya is playing good suddenly. Neha says it was a moment of realisation. Karan says he is only talking about the audience. They both had good connection but now suddenly it's changed. Karan says he is not biased but the people behind the social media. Karan asks him who was his priority apart from Shamitha in the begining. Raqesh says it was Neha but then they decided Divya because they wanted to give her a fair chance.
Karan asks to explain fair chance. When Raqesh explains. Karan asks whether he is listening to him self. He asks Shamitha who says she doesn't know what to say. She says she has seen Raqesh's priorities changes. She has seen a different Raqesh. She would ask him whether it's him. And he used to say this is him. She is not able to understand this. Karan tells Raqesh that Divya has come till the end and he doesn't understand as to why he has chosen Divya. Raqesh says he doesn't remember things. Karan says it's convenience. Raqesh says he can't remember things. Shamitha says he remembers everything about Pratik but when it comes to them he forgets. Karan says he is not talking about them but himself. He asks Raqesh whether he didn't think he was taking with a confused man. Nishant says he was not clear. Karan says ita confusion. Pratik says about Raqesh's reasoning where he has said that men are strong and women are weak. Karan says to Nishajt that now he is being good now but then he was a warrior. Karan says he is giving them researched a lot and it is genuine feed back. He asks how did Pratjk and Neha go into the danger zone. They took each other's priority.
Karan asks him to remember and ask why he gave advantage to Shamitha. Karan tells him that Shamitha was neither injured or waiting for his help. Karan says it's Bigg Boss OTT and not KKK fear factor. Raqesh says that he don't think that he has done wrong. Karan asks Nishant that he has said that Pratik as his priority then how did he chose Pratik and kept him at stake. He explains himself. Karan says it was not soo him that he stayed silent. Karan says it is confusing for him and what was that. He asks Raqesh about his statement. Raqesh says it was misunderstood. Karan says it was true thought in his mind. Raqesg says he fumbles at times. He wants to talk when it comes to control. Karan says he is contradicting himself. He is saying whatever not knowing it will offend others as well. Karan says to Raqesh that his statement was sexist. Karan says Shamitha can kick his ass. Karan says he has called people out and they don't say things as such. Karan asks why did Moose got up and leave when he said such a statement. Moose says that when he came to talk to her she expected something better but he started as a sexist. He asks her to repeat whatever she has said. She has said. Moose says she can't understand his point.
Karan asks Shamitha whether she was okay with Raqesh said. Shamitha says Pratjk has experienced her strength. She says he played intelligently that's why she fell. Karan tells Raqesh that he don't want to be the member of cancel culture. He says he wants to teach him to accept that he is wrong. Karan asks him whether he can say with courage that he is saving Shamitha just like Nishant was doing. He says his confusion about Neha and Pratik going to danger zone. He says that whatever happening in between Raqesh and Shamitha as annoying. He asks Shamitha who says that she is pushing herself out of her comfort zone for him and she genuinely liked him even though they were forced in the begining. They had mutual feelings. But in the last days he has changed. She says he has become very arrogant and insensitive with her. She says she is trying to understand her feelings and she has seen that beautiful side of him. He asks whether she thinks he has broken her heart. She says yes ajd it's better that if he stays away from her. Karan says may be he wants out.
Shamitha says he said may times and things that broke her heart. Karan asks her to understand may be he don't want the connection to stay. Shamitha says that she is angry with herself and confused. He calls her a Rom Com heroine. She says it was her stupidity. Karan asks a winner got a full bitcoin of the contestant. He asks to connect the call. Karan tells Pratik that he is not getting the coin. Someone Sonal calls and Karan congratulates her. Sonal asks Neha that she has said that she can leave the show for Pratik and she doesn't like it as a fan. She aaks whether she don't care about her fans and wahts to win Pratik only and not the trophy for her fans. Neha thanks her and apologises to her.
Neha says it was never easy for her. Pratik is her friend and she thought it was injustice to him and when it comes to friendship that her tiger came out. She says she will do the task. Sonal says she apologized and that's happiness for them. Karan asks Pratik that whenever he has given task, they see how much enthusiasm he has but when he doesn't win he loses things. But when the task got aborted in the auto task he didn't say anything. He asks why they didn't get Pratik reaction. Pratik says he was shouting a lot and he has asked her to save herself and the conversation with Moose was hurting and he says whatever Moose said had a bad affect. Karan says don't he think that he shouts and challenges Bigg Boss. He says his reactions are contradicting. Karan says he doesn't understand his reactions. Pratik says seventy five percent he had thoughts about Moose. Karan says he used spoilt brat for his son and calls Pratik as spoilt brat. He says he has shouted at his son and now he is saying the same thing to him. Pratik says he is accepting because he has said. He asks Moose about Pratik's reaction to Neha. Moose says a romantic movie was going on in her mind when they were shouting at each other. Moose says their behaviour makes her cringe. Karan asks her not to be judgemental. He says he never judges anyone.
Click to read
Bigg Boss OTT 11th September 2021 Written Update: Neha and Pratik get into an Argument