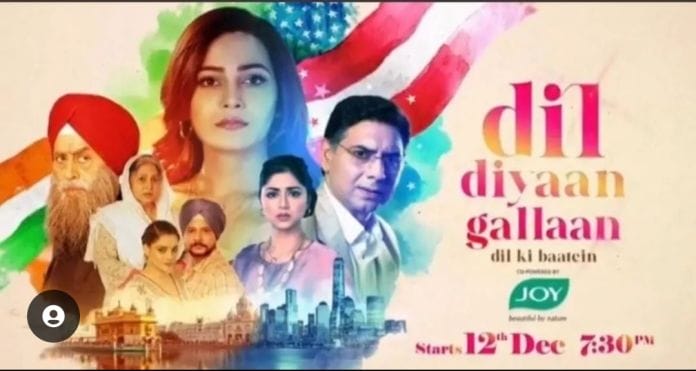 Dil Diyaan Gallaan Upcoming Story, Spoilers, Latest Gossip, Future Story, Latest News and Upcoming Twist, on Justshowbiz.net
The episode starts with Maan asking Rana to trust him. He says that an unknown man removed the stamp. Dilpreet comments on him. The inspector says they need to arrest Rana again as Maan fails to submit the proof. Tavleen says you can't arrest him as I have bought the evidence to prove Rana's innocence, unlike Maan who trapped his brother to save his daughter-in-law. Tavleen says Maan's proof is baseless and she makes her man surrender to the police. Nimrit thanks Tavleen for saving her husband. Maan asks Dilpreet to believe him. Nimrit asks him to stop his stories. Sanjot takes Maan's side. Dilpreet comments on Maan. Amrita asks Dilpreet to not misunderstand her father and says they are the ones who lost the report. Dilpreet asks her to not be involved in elderly matters.
Rana gets released. Kushwant hugs Rana. Maan says to Rana that they can go home and discuss what happened. Rana removes Maan's hand from his shoulder. Tavleen offers Rana to come in their vehicle. Rana and his wife go with Tavleen in her jeep. Later Kushwant stops the vehicle at Brar's mansion. Sanjot asks Rana to come inside. Rana refuses and says he can't come to the place where Maan stays. Tavleen requests Rana to come to her place. She tells Sanjot that it's needed to reduce Rana's anger and takes Rana and his wife with her.
Dilpreet accuses Maan and says to Sanjot that their son goes to stay at the enemy's house because of this Maan. He says if one son is written in her fate then he wants Rana and asks Maan to leave. Amrita takes a stand for her father. Maan stops Amrita and says to Dilpreet that he can oust him but if he leaves then he won't come back. He goes inside. Veer tries to talk to Dilpreet but he doesn't allow him.
Maan and his family come out with their packed luggage. Sanjot pleads with Dilpreet to stop Maan and asks him to not punish her. Dilpreet asks Sanjot to leave with Maan if she feels his decision is punishment. Sanjot asks what he said. Dilpreet repeats it. Sanjot folds her hands and asks him to not repeat the mistake he did 27 years before. Dilpreet comments on her and says to her that she can accompany her son and leave the house. Sanjot says you want me to leave so I will leave with my son as Maan is correct. Maan tries to talk to Dilpreet for Sanjot. Sanjot stops him.
Episode ends.
Precap – Astha asks Sanjot why is she leaving her everything for them? Sanjot says if she doesn't support Maan today then she can never forgive herself.
Veer calls Rana and says Maan has left the house and Sanjot also left with them. Rana gets shocked hearing this. Tavleen feels happy hearing this.
Click to read
Dil Diyaan Gallaan 27th May 2023 Written Update: Tavleen and Khushwant make Maan the culprit in Rana's eyes