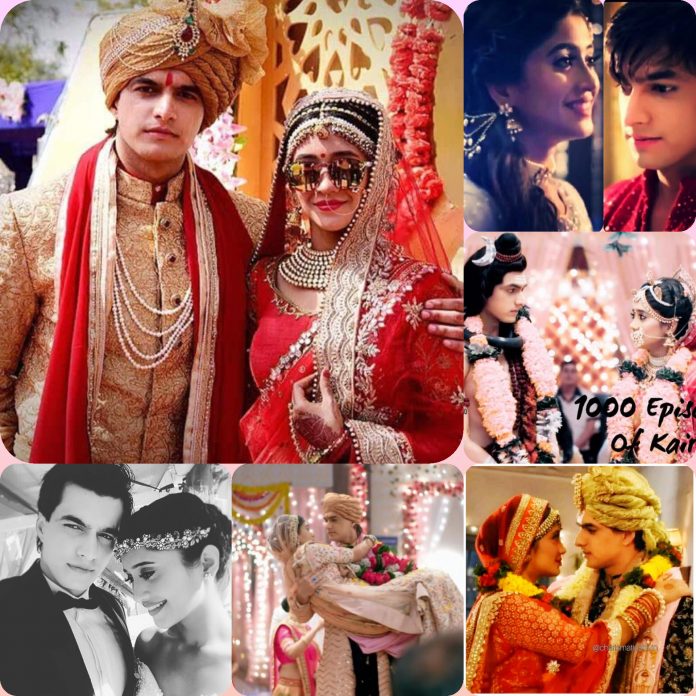 Kaira, the most loving couple of Star Plus's popular serial Yeh Rishta Kya Kehlata Hai, who loves each other very much, but sometimes they also has fights and differences, but no matter how much they separated luck always brings them back together, like both of them separated this time but got back together again. But now we all have this question, whether this marriage will be the final marriage of Kaira or not. Because this is the sixth marriage of Kaira. So, after this, will Kaira stay together forever? Well apart from this we will take you to the little flashback and bring back your memories of Kaira Marriages.
Kaira First Grand Vivaah
So first of all, Kaira's first and the grand wedding ever, which was not only a serial Yeh Rishta Kya Kehlata Hai, but it was the grandest wedding ever shown in any Indian television serial which was happend in Bikaner's Palace. Like the wedding of any Maharajas, the grandeur was reflected in everything of the wedding, whether it was the destination or the bride's and groom's attires. It's completely royal in every way.
Kaira Nikah
Next is Kaira Nikah, those is done in Mehndi program of Naksh and Kirti, it was such that, Kaira and Naksh-Kirti got some work due to which they went out of the house but, it starts raining and thiers car breaks down, then they meets Aryan aka Shubham. Which takes them to a Muslim family living nearby, where is Mehndi ceremony is heppening and the family suggest them that you guys also do your Mehndi Ceremony with us, so they all is ready to doing Mehndi there. So in this way Naksh and Kirti's Mehndi starts, but privately Kaira tries to perform some rituals of Nikah, this is how is done Kaira Nikah.
Kaira Vivaah as Shiv Parvati
Now it was Kaira's third marriage i.e. the third vivaah that they did as Lord Shiva and Parvati, actually the Karthik's grandmother had organized in the festival of Mahashivaratri, The "Shiva-Parvati Vivah" in that Kaira as Lord Shiva and Parvati would get married. So, this is how Kaira's third marriage or third Vivaah was happened.
Kaira's Greek style Church Wedding
Now let's come to the fourth wedding of Kaira, when they went for a honeymoon in Greece, which was happened incidentally, because they decided to acted like unmarried, and that's why when father seen Kaira, he thinks they are really unmarried and wants to marry, so Father  organizes their wedding in Church, and when Kaira found this, they initially felt a little shock but later they did a church wedding in Greek style for the happiness of Father.
Kaira Marriage in Hospital
Now come on Kaira's fifth marriage, which took place after a major separation, actually happened that Karthik's step brother Shubham dies due to drug addiction, Swarna expels Naira from the house, because she was thinking if naira tells the truth of Shubham to family then he can't be dead. After which serial will take 2 years leap after which a lot of misunderstandings arise between Kaira and they get divorced after which both of them gradually realize their mistakes and both are preparing to get married again. But  Naira suddenly knows that she has a brain tumor so she refuses to marry but does not tell the reason to anyone of not doing marriage, but Karthik finds out and convinces Naira again, then both get married in the hospital.
Kaira's Temple Wedding
Now is the time of sixth and yet final marriage of Kaira, which is going to take place after a very major separation. Actually Karthik gots misunderstandings about Naira, and when Naira knows this, she was very hurt leaves Karthik's house but she was pregnant on that time. After that 5-years leap is happened, and after which Naira reaches Goa and Kairav enters in show. He questions Naira about his father, but Naira always tells a lie, but Kairav finds Karthik. But till then Karthik is unfortunately married to Vedika. But Kaira starts living together for Kairav's happiness, which ends their misunderstandings. But Vedika tries hard to separate them but finally Kaira get married in Temple.
So, this was all six marriages of Kaira, now Kaira will ever do more marriages, it only future tells, untill then stay connected with us for more updates. Let's get buzzing…!!!