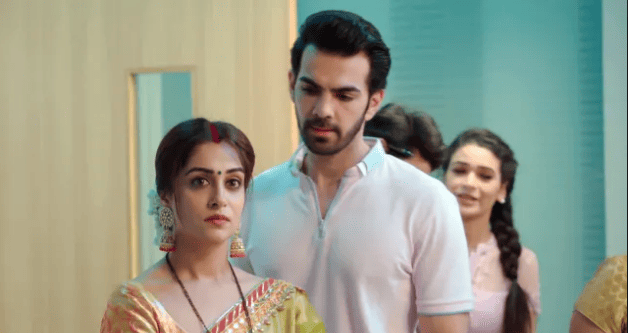 Episode starts with Rohan and Pari. The duo at the café talks with each other. Pari says she has to leave now. Rohan sees Pari's scarf and thinks to return but he recieves a message from Pari -that reads she deliberately left scarf so that she can meet again. Rohan replies her back and smiles.
At Sippy mansion everyone waits for the moon. Nishi asks YK to check online when the moon will appear. Naren comes and asks for Rohit. Sukhmani tells to Naren that Rohit will come back after keeping his promise. YK tells to everyone that Rohit went to Kewalranwani's house to meet Sonakshi. Nishi interrupts and says Rohit has hidden truth with them which is not fare. Akash comes and says that many at the house keep secret with them. Nishi and Yk looks at Akshay and recalls the orphanage file moment.
Rohit comes and Venna ask about Sonakshi. Vimmi comes and tells everyone that Parvati has come. Rohit says he will go and bring Sonakshi inside.
Rohit goes and sees Sonakshi. He asks her why she has opted such a heavy outfit like Parvati. Sonakshi explains to Rohit that she has done so much of make up because she is at his house, as his girlfriend.
Rohit asks Sonakshi to change her dress because his family wants to meet Sonakshi not Parvati. He further says he loves Sonakshi not Parvati so for that she has to change her dress and wear something simple.
Sonakshi agrees to change the dress and Rohit takes her to the outhouse. Rohit selects dress for Sonakshi from her bag and ask her to change.
Sonakshi gets worry how she will get ready without sunita. Rohit says he will help her and goes to open Sonakshi's necklace. He opens it with his mouth. Sonakshi and Rohit feel awkward.
Sukhmani waits for Rohit and Sonakshi. Venna says she will go and check. Naren stops Venna and says not to interfere much in his son life, as he has a girlfriend now.
Sonakshi dries her hair and Rohit gets mesmerized seeing her (Ek ladaki ko dekha to aisa laga song plays in the background). He says he swear she is looking beautiful. Rohit holds Sonakshi's hand and thanks her for helping him.
Venna and others greet Sonakshi. Nishhi taunts Sonakshi looking at her dress. Venna and Tanya praise Sonakshi. Sonakshi looks at Rohit.
Ajit informs that moon has appeared. Sukhmani asks everyone to come for performing the ritual. Venna asks Sonakshi to perform the ritual too. Rohit says to Venna that Sonakshi has not kept a fast. Sukhmani and Venna ask Sona to perform the ritual.
Sippy's perform the Pooja and Nishi sees Sonakshi. She deliberately ruins Sonakshi's platter.
Yk tells to Nishi that he has seen what she has done. Rohit, Sonakshi and others sits for having dinner. Sippy's shares talk with Sonakshi. Later, Sukhmani ask Rohit to feed Sonakshi.
Sonakshi gets happy seeing bitter guard dish. Naren tells to Sona that Rohit don't like bitter guard and spicy food. Sonakshi thinks of something and feeds Rohit bitter guard.
Akash ask Sonakshi to tell something about herself. Sonakshi tells about herself and further she says she is going to give 10th grade exam. Sippy's looks at her shockingly.
Sonakshi ask did she say something wrong. Rohit signals no. Naren ask how she fallen for Rohit, as he is totally opposite to her. Ajit interrupts and says opposite attracts. Rohit stares at Ajit. Venna says to Rohit that his choice perfect.  Rohit and Sonakshi looks at each other. (Episode Ends)
Precap: Sonakshi tells to Rohit that they are doing wrong by playing with the emotions of the family. Raima's mother tells to Raima not to worry, as they will reach Chandigarh soon.Raima's ambulance stuck in the traffic. Rohit sees his friend in the ambulance and gets shocked.