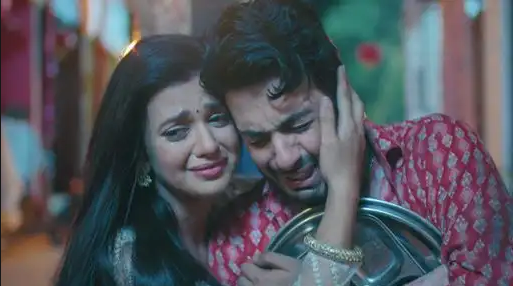 Colors TV Gathbandhan will witness high voltage drama in the upcoming event.
So far in the episodes, Raghu and Dhanak are enjoying their pre-wedding rituals. Their function gets interrupted when the constable comes and tells Dhanak that Lakshmi met with an accident and is dead. Dhanak gets shocked and goes to the accident spot to check.
Mai gets happy thinking how easily she fooled Dhanak. Mai recalls how she and Lakshmi plan to fool the police. Lakshmi and Mai plans Lakshmi's fake death. Dhanak checks Mai's call records and learns about Mai's plan. She orders to trace and arrest Lakshmi. Dhanak cries and tells Sejal everything.
Otherside, Geeta recognizes Lakshmi's on seeing the scars on face. Here, Dhanak and Raghu haldi ceremony starts. Dhanak looks for Mai to confront her.
Now in the upcoming episodes will see, commissioner will call Dhanak and will tell her that they arrested Lakshmi.
Commissioner will call Dhanak and will tell her that they arrested Lakshmi. Police will beat Lakshmi and she will get ready to tell the truth.
Otherside, Dhanak will get ready for the wedding and she will receive a shocking call. Here, Raghu is all excited and dances in wedding. Dhanak hang ups the call and cries.
Further will see, Dhanak will arrest Raghu on their wedding day. As shown in the promo, after taking pheras, Dhanak will arrest Raghu in the drug charges.
Do Raghu and Dhanak's relation will change forever. What mai will do next to separate Dhanak and Raghu and how Dhanak will save Raghu later will be interesting to watch.
How much excited you all are for the upcoming track, leave your comments. Keep watching Gathbandhan mon-fri on Colors TV.
Keep visiting this space for more news, spoilers and latest updates.