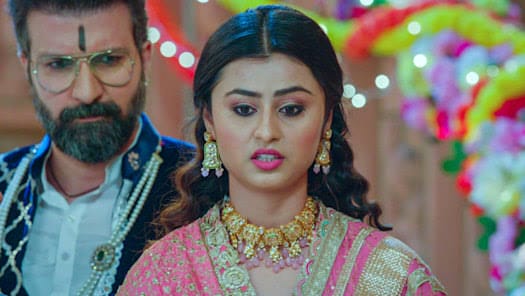 Rajjo: Rajjo (Celesti Bairagey) and Arjun's (Rajveer Singh) love victory, groom swap magic works
Star Plus popular daily soap Rajjo is bringing intense drama in the story.
Rajjo and Arjun are shocked and in fear as Amit goes missing.
Arjun asks Rajjo to elope with him before anything wrong happens or he end up marrying Niharika.
Rajjo assures Arjun that she will handle everything and goes away to find Amit.
Here Chirag gets the groom to the mandap and his face is covered, Niharika happily sits with him to get married.
Arjun and Niharika's wedding rituals begins and they gets married while Rajjo arrives late.
Rajjo and Arjun's victory of love
Rajjo is shocked seeing that wedding rituals are completed and shouts in pain.
While it isn't Arjun but Amit who got married to Niharika.
Rajjo smiles and laughs at Niharika for being so stupid and thinking that Arjun is marrying her.
It was Rajjo and Arjun's plan to swap the groom and get Niharika married to Amit.
Will Niharika accept this wedding and how will this game end, is to wait and watch for?
Stay tuned for more exciting updates only on justshowbiz.net