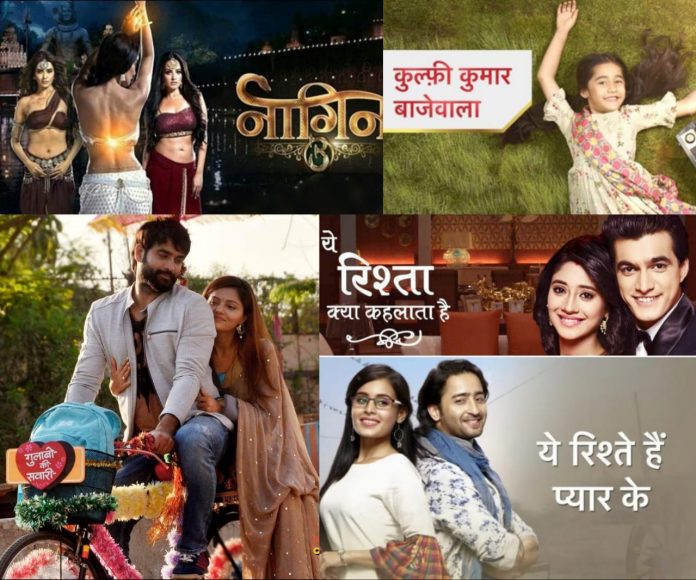 Twists are lifeline of the shows. A twist plays a vital role in forwarding the story and at the same time it spices up the tale. A viewer too curiously watches the show that has some high voltage twists to know what will happen next.
Thus, here we have listed few shows which are going to show some twisted twists in upcoming days so don't miss to watch them out to find the real reason behind these twists.
Naagin3:-
Colorstv supernatural show is marching towards its finale. In the finale episodes of this season, viewers to witness some high volt drama with all the Naagins from season1 & 2 coming together in this season. Shivanya, Ritvik, Rocky and Sehsa will be seen in the finale episode.
So why, they all came is the most twisted twist of Naagin3. Don't miss to catch the finale episodes this weekend.
Kulfi Kumar Bajewala:
In this Star Plus musical show, there will be double dose drama as viewers will witness two Sikander's. One Sikander is at home and one will be roaming outside. Kulfi will hear the other one singing and will feel some connection with him.
If you follow the show then you must be well aware that there was one other person too in the car on the day when Sikander met with an accident. So who is the real Sikander among the both will be interesting to watch.
Shakti Astitva Ke Ehsaas Ki:
the most twisted twist is going to happen in colorstv popular show Shakti Astitva Ke Ehsaas Ke with Saumya becoming Guruma. In upcoming episodes will see Preeto will curse Saumya for being eunuch and later she will turn Tarana.
So, what made Saumya to take this drastic step watch the episodes to know more.
Yeh Rishata Kya Kehlata Hai:
Star Plus longest running show Yeh Rishata Kya Kehlata Hai too will witness high voltage drama in the coming days. In the upcoming episode Kartik will ask Naira to tell him the truth if she has spent time with some unknown person. Naira will shock to hear him and it will be interesting to watch do this will separate Kaira forever.
Also who is the person who created this doubt in Kartik's mind, keep watching this soap daily.
Yeh Rishtey Hai Pyar Ke:
In Star Plus spin-off show Yeh Rishtey Hai Pyar Ke there will be shocking twist ahead. At one side Abir will realize his love for Mishti. Abir will be all happy and will decide to confess his feelings to her. He will dream of her but the twist in the story will stop him to confess his feelings for Mishti.
What it is that stopped Abir to confess his love for Mishti, well time will only tell, stay tune to Star Plus mon-fri, at 10pm.
These are the list of the most twisted twists which will bring new developments in the story of your favorite shows, so don't miss any.
Stay tuned with us for more updates.