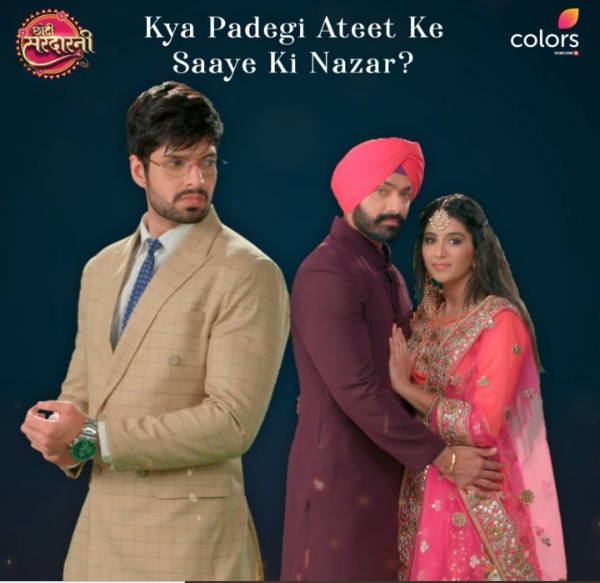 Choti Sardarrni Upcoming Story, Spoilers, Latest Gossip, Future Story, Latest News and Upcoming Twist, on Justhowbiz.net
Episode begins with Patak introduces him to Vikram. Robbie says they are here to help Vikram. Vikram tells his assistant to give them food and send them. Patak says he won't waste Vikram's time and tells him to listen him first. Robbie says he misunderstood them and says they are here to help him.
Vikram says when Robbie can't support his family then how can he help him. He tells his assistant to throw them out of this cabin. Robbie says he could not tolerate the injustice happening with Karan that's why he came to visit him. Vikram asks him to tell directly whatever he wants to say.
 Patak says they wants to talk to him alone. Vikram orders his assistant to wait outside. Robbie shows one video to Vikram. In that video, Harleen gives new sweater to Param. Param asks didn't she brought sweater for Karan.
She says she is his favorite aunt so she brought for him only. He returns the sweater to her saying he won't accept it if she didn't brought for Karan then. Meher says should not behave like this with Harleen and says she already gave Param's old sweater to Karan. Robbie records this in his mobile.
Vikram asks how can they give old sweater to Karan what if he gets rashes because of that. He says he will talk to Sarab about this but Robbie stops him saying he came just to show this video and ready to help him. Param cries. Sarab says Harleen should have brought new sweater for Karan too.
Harleen says she doesn't have any emotions towards Karan that's why she didn't brought for him.Meher convinces Param saying Sarab decided to buy first sweater for Karan that's why Harleen didn't brought. She apologize to Karan.
Robbie says Harleen won't accept Karan because she knows that Karan is not Sarab's blood. Patak says Karan deserves to stay with his biological father. He says if Vikram approaches court then it will take time to get Karan so he should approach Harleen.Robbie tells Vikram to threaten Harleen.
Robbie says to save Sarab's reputation she will do everything anf she will give Karan to him to save Sarab's image. Vikram says he needs Karan's blood sample for DNA test. Patak says they will handle that and leaves from there with Robbie. Patak says now they has to go to Gulwant and laughs.
Amrita meets Meher. Meher notices Amrita's rashes and asks what happened to her. She takes her inside.
Vikram calls Devika and informs her that he doesn't want to go to court for custody now saying he will deal with Sarab directly because it's their family matter. Aditi calls Vikram and asks where is he now. He says he is in the house and she refuses to believe him. She disconnects the call and video calls him. He attends the call and shows the house saying he is in house only but she is doubting him. She says she is not doubting him instead she missed him that's why did video call.
Amrita cries in front of Meher. Meher asks what happened. Amrita tells everything which happened from Diwali day to till today. Param and Sarab selects sweater for Karan. Param suggests him to buy something for Meher.
Sarab says they will buy new sweater for her also and will surprise her. Param complaints him saying he is seeing suits instead of sweater. Sarab gets call and starts to talk. Robbie tells the Doctor to take Karan's blood sample before anyone comes here. Karan starts to cry. Robbie tells him to do it fast. Meher hears Karan's crying sound. Sarab and Meher moves towards their room. Meher takes Karan. Robbie hides there.
Episode ends.
Precap – Meher notices red mark on Karan's hand.