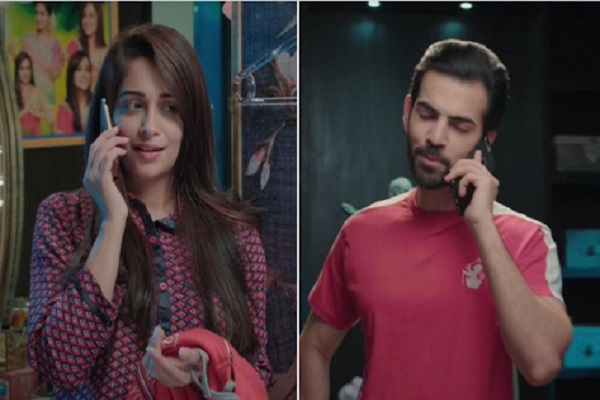 The episode begins with Sonakshi is requesting the father of the charge to let Rohit enter as there is no particular time limit to pray to God. She folded her hands in front of father and request him and Rohit gets mesmerized to see her care for him. Father understands the state of Rohit and Sonakshi and instructs the guard to let them enter the church.
Rohit and Sonakshi come inside the church and Sonakshi asks Rohit to light the candles as few minutes are left only. Rohit lights up the candle and Sonakshi helps him but she takes off her hand from his shoulder. Father comes near them with a Bible and says that I will pray for both of you. He asked both of their names and Rohit says his but when he looks at Sonakshi she said that she doesn't want him to pray for her but request him to do her share of pray for Raima. Father agrees and calls Rohit to come in front. Sonakshi steps pack and Rohit goes forward while Sonakshi slowly goes away from the church. Judaai place in the background and Sonakshi feels extremely upset and heart is broken but she is in love with Rohit.
Father asked Rohit if Rama is with him and he says that she is not with him and he doesn't even know where she is but she resides in his heart and he wants her to be fine and happy. father asks Rohit to close his eyes and pray for her and despair will reach out to her. Sonakshi comes out and she lights a candle in front of Mother Mary and looks at her with teary eyes. Rohit closes his eyes and he sees that he is entering the chat with a girl and they both are lighting up the candles. The girl suddenly goes away from him and she turns back…and he is shocked to see that it is Sonakshi. He immediately opened his eyes and looked around him and finds nobody. Father asks him what happened and he said that he doesn't see Raima but someone else. Rohit is finding it hard to believe that he is in love with Sonakshi. He slowly left the church premises with confused and shocking thoughts in mind. he is continuously thinking that when and how did he fall for Sonakshi and he spots Sonakshi outside the church. Sonakshi sees him and informs that she is going to shoot from tomorrow. She says you told me that no one else can be Parvati than me and now it is happening. While Rohit is silently looking at her dwelling with so many emotions in his mind. Tere liye song plays in the background Ford Rohit and he is still not able to figure out when did you fall for Sonakshi and from when she is residing in his heart? Sonakshi said that let us go back home and there was a silence between them while walking. Both of them wants to say so many things but keeping their emotions in control as they are short of words. Rohit finally expresses his gratitude to Sonakshi for doing so much for him. Sonakshi silently nods and gets in her car.
Rohit also sits inside the car left with a confused mind while Sonakshi wipes her tears. Both of them were in a different direction and it is shown that Mother Mary is watching them. Rohit is in car and is lost in the thoughts when his driver Ravi asks him if he is ok? Rohit says that he is fine but he is thinking about Sonakshi that have come a girl can do so much for him selflessly? Ravi says that Sonakshi is one of a kind and she always takes care of everyone around her.
Sonakshi is driving the car but stops as she is finding it hard to deal with all the emotions that are coming out of her eyes in the form of tears. she is not able to manage the overflow of emotions with which she is dealing with right now. She tries to make herself understand that whatever is happening is something that she knows from earlier. she knows that Rohit loves grammar in delivery and he will never give her place to Sonakshi or anybody for that matter. She thinks that it is her fault to say yes for the drama. She thinks that she won't be able to digest another heartbreak for her. She somehow gathers herself together and decides to stay away from Rohit to avoid this ocean of emotions inside her.
Rohit, on the other hand, is thinking about Father and Ajit's words about Sonakshi and says why it is necessary to leave behind your past to move on in the future. Will he be able to do it as he will love with Sonakshi now? Pari is partying with Rohan and she is completely drunk when Rohan says that it is quite late and they should go back home.
Rohan gets a call from Deepa and is talking to her over the phone when goes out from his car and passes out in front of Sonakshi's car. Rohan sees Sonakshi and height so that she can't see him. Sonakshi tries to find out from Pari that who brought her here but before she can answer anything she doses of.
Precap – Suman and Sonakshi are having a conversation when Suman said that she can see in her eyes that she is getting attached to Rohit emotionally. Suman advised Sonakshi that if this relation is one-sided love from her side then she shouldn't let it go out of control. Sonakshi decides that she will inform Rohit about ending this drama of a fake relationship. On the other hand, Rohit decides to confess his feelings to Sonakshi and let her know that he is in love with her.